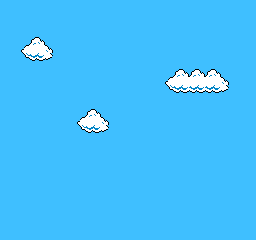 (*picture this animated as above)
Cory Arcangel is one of my favorite new media artists, and I'm all happy because I just figured out how to make the coolest desktop EVER with on of his pieces. The image above is an animated .gif from his piece called Mario Clouds. If you right click and save the image to your CPU you can set animated .gif files as your computers desktop. This means that you can enjoy Cory's animated Mario Clouds floating under your files all day long…..
In other Cory news there is also really good 2 cam video documentation of a talk he did at columbia which you can stream in here.